Pink Fantasy
This tutorial was written by me (Vella) any similarities to other tutorials is just a coincedence.
This is what we will be making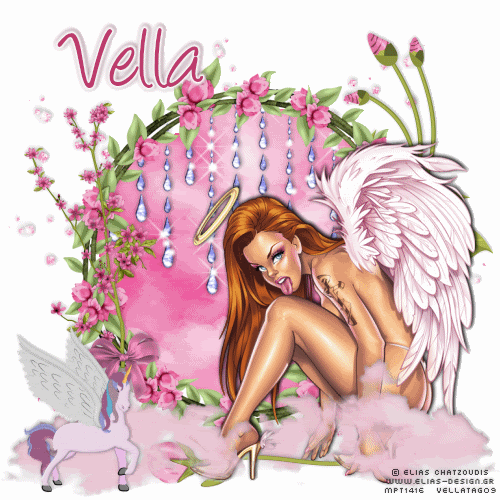 I have also made these with the same scrapkit, all a bit different from the pink one but same basic steps, minus the clouds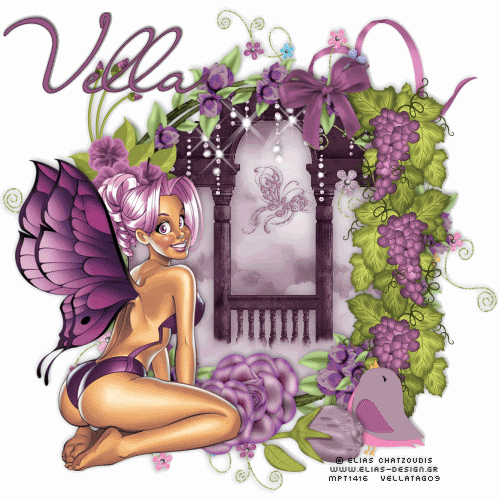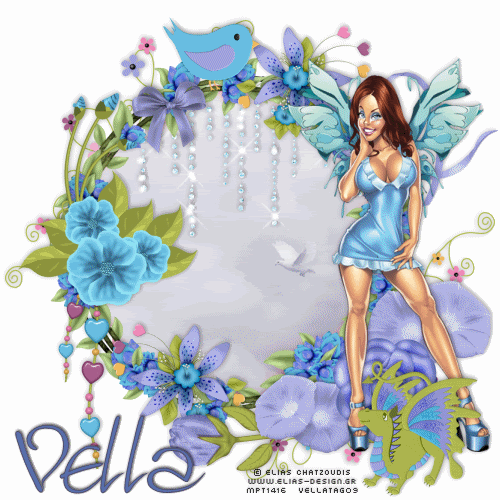 This tut was written in PSP 9. It should be able to be done in version 7 and up.
You will need PSP and i assume you have a working knowledge of the tools.
Things you will need....


Animation Shop

Xenofex 2 - Constellation

Xero - Porcelain (optional)

A scrapkit of your choice or...

the one i used was made by me and is a PTU kit

It's called Fantasy and you can find more info on how to get it HERE



Tube of choice

I am using a sexy tube from Elias Chatzoudis

If you want this awesome tube you can pick it up from MyPSPTubes

Please do not use the same tube without purchasing it and using a proper license for it



Open a new image 500 x 500

Floodfill with white

Open a frame from the kit, copy and paste as a new layer

Using your magic wand, select inside the middle of the frame

Go to Selections > Modify > Expand by 5

Add a new layer and drag it below the frame layer

Open a paper of choice, copy and paste into selection

Deselect

Go back to the frame layer and add a drop shadow of choice

Copy and paste one of the raindrops or glitter rain, drag the layer below the frame layer

Resize how you like behind the frame, erasing anything sticking outside of the frame

Add a drop shadow

Now embellish the tag how you like, you can follow my examples if you want, just make sure you add drop shadows to everything

Now add the tube you are using, resize to your needs and add a drop shadow

Now open one of the clouds from the kit, i think i used Clouds1 lol

Copy and paste and resize if needed and place where you need it

Now go to Selections > Select all

Selections > Float

Selections > Defloat

Add a new layer

Now using your dropper, choose a color from your tube or something else on the tag, to color the clouds

Flood fill the selection

Now change your blend mode from Normal to Multiply

(If you dont know where the blend mode is, you see where your layers are, the little eye to close the layers, the opacity etc? It should say Normal, just click there and use the drop down menu to change it to Multiply)

Merge Down, so the cloud layers are merged together

Now this is optional but i used Porcelain to give the clouds a fluffier look

Here are the settings i used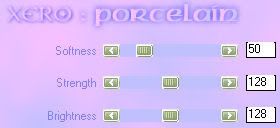 Deselect

Add a slight drop shadow, whether you use Porcelain or not

Now I also duplicated the cloud layer, mirrored it and erased some of the overlapping to get it how it is on my tag

Add any other embellishments you may want and then add your copyright and/or license info, if applicable

Now we are going to animate the tag, so you can skip this part and add a name if you dont want to animate

Make your raindrops or glitter rain layer active

Duplicate this layer, making sure you stay on the duplicated layer

Go to Effects > Plugins > Alien Skin Xenofex 2 > Constellation

These are the settings i used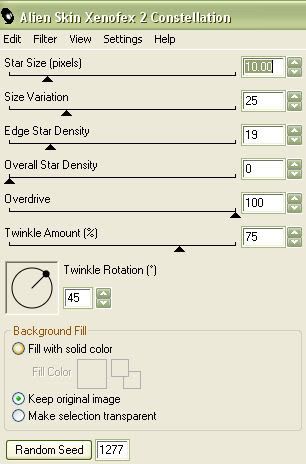 Now Copy Merged the tag and paste into Animation shop

Go back to your tag and undo

Go back again to Constellation and hit the random seed button

Copy merged again and paste into Animation shop, after current frame

Now go back and repeat this until your animation has 4 frames in total

View your animation to make sure it looks right, if you're happy with it you can add a name to it or save as a blank

And thats it!!


That wasn't too bad now was it? lol

Now you can take a break!

I hope you have enjoyed this tutorial


Tutorial by Vella ~ August 6th, 2009