Fairy Godmothers
This tutorial was written by me (Vella) any similarities to other tutorials is just a coincedence.
This is what we will be making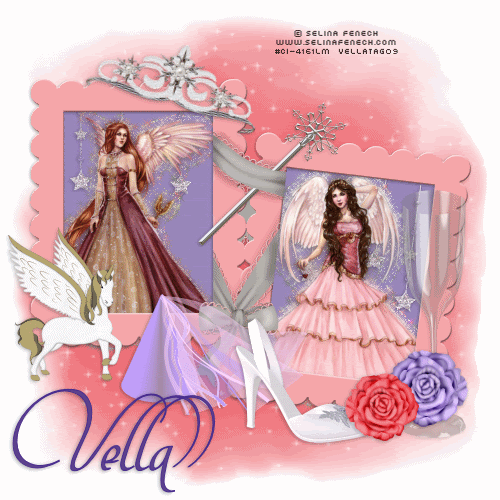 This tut was written in PSP 9. It should be able to be done in version 7 and up.
You will need PSP and i assume you have a working knowledge of the tools.
Things you will need....

Animation Shop

VM Natural - Sparkle

Xenofex 2 - Constellation

Mask of choice or the one i used, DMSK0670 which you can find HERE

Scrapkit of choice, or the one i used

I am using a scrapkit called Princess Tales from Honored Scraps, it is a PTU kit that you can buy HERE

Tube(s) of choice

I am using these beautiful tubes from Selina Fenech

If you want these awesome tubes you can pick them up at CILM

Please do not use the same tubes without purchasing them and using a proper license for them



Open a new image 500 X 500, flood fill with white

Add a new layer

Go to Selections > Select all

Open a paper of choice and paste into selection

Go to Layers > Load Mask and choose DMSK0670

Merge > Group

Go to Effects > Plugins > VM Natural > Sparkle

Use these settings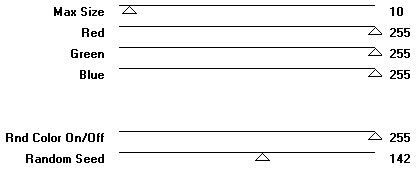 Now go to Adjust > Blur > Gaussian Blur > 1.00

Open a frame of choice, paste as a new layer

Resize as you need

Using your magic wand, select inside the middle of one of the frame openings

Go to Selections > Modify > Expand by 4

Add a new layer and drag it below the frame layer

Open a paper of choice and paste into selection

Do the same for the other side of the frame

Now add a drop shadow to the frame layer

Open up the stars, copy and paste as a new layer and resize

Fit them into the background of the frame to your liking, erase any part sticking out and then add a drop shadow

Copy and paste again, resize

This time, rotate them to the right by 8 degrees, erase any part sticking out and add a drop shadow

If you want the tiara like i have it...

Paste as a new layer, above the frame layer, resizing where you need it

Go to Image > Rotate > 16 degrees to the right

Position it to where it will look good and add a drop shadow

Now go to the frame layer

Go to Selections > Select all

Selections > Float

Selections > Defloat

Now go back to the tiara layer and using your eraser, erase the part of the tiara that hooks around the head (sorry dont know the technical term LOL)

Deselect

If you want the wand where it is, open the one from the kit

Copy and paste and resize to fit

Go to Image > Mirror

Add a drop shadow

To make this easier, turn off the wand layer

Using your Freehand selection tool set to Point to point

Draw around the ribbon where the wand is, you should go a bit bigger since you cant see where exactly it is

Turn back on the wand layer and hit delete on your keyboard

Now add any of the embellishments you would like, just remember to add drop shadows to them all

This is also a great time to add your copyright and/or license information, if applicable

And, if you dont know how to add your name to an animation, this is a good time to add it

Now paste your tube, resize to fit inside the frame, preferably leaving a bit of room around some of the edges for the animation

If any is outside of the frame, erase it

Now do the same for the other side of the frame

Merge ONLY the tube layers together

Add a drop shadow of choice

Now duplicate this layer

Making sure the bottom tube layer is active, go to Adjust > Blur > Gaussian Blur 3.00

Now go to Effects > Plugins > Xenofex 2 > Constellation

Use these settings





Now copy merged the tag and paste into Animation shop

Now click undo on your tag in PSP

Now go to add the Constellation effect again, this time hit random seed at the bottom

Copy Merged and paste after current frame into the animation you already started

Now go back and undo again and repeat until your animation has 4 frames in total

Now check the animation to make sure it runs right, i left all the frames at 10

If you are happy with it, you can now save it as a blank and add your name to it


That wasn't as hard as it looked, was it? lol

Now you can take a break!

I hope you have enjoyed this tutorial


Tutorial by Vella ~ July 22nd, 2009