Season to be Naughty


This tutorial was written by me (Vella) any similarities to other tutorials is just a coincedence.
This is what we will be making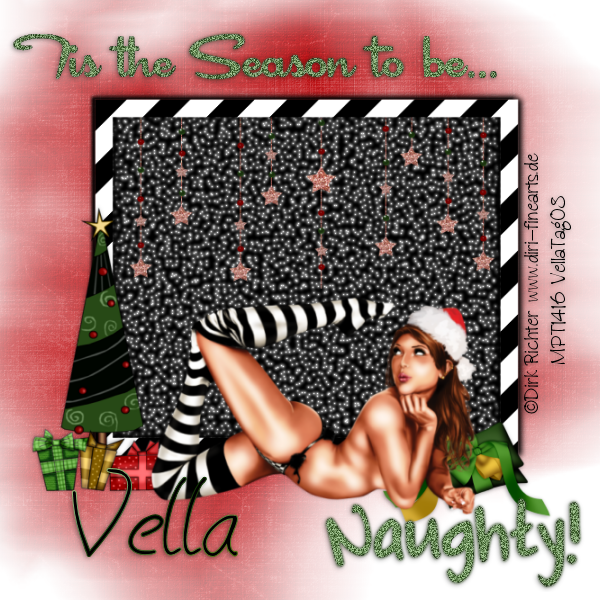 This tut was written in PSP 9. It should be able to be done in version 7 and up.
You will need PSP and i assume you have a working knowledge of the tools.
Things you will need....

Xenofex 1 - Constellation plugin

DSB Flux - Bright Noise plugin
(you can use add noise if you dont have this filter)

Various scrap items to decorate, not include in supplies

My supplies HERE

(includes mask, my word art and black & white tile)


Tube of choice
I am using a sexy tube from Dirk Richter.
If you want this awesome tube, you can pick it up from MyPSPTubes
Please do not use the same tube without purchasing it and using a proper license for it


Open a new image 600 x 600

Floodfill with white

Open a paper of choice

Resize so its as close to 800 x 800 as you can, this is so the mask will have the same effect as mine

Go to Layers > Load Mask > Load mask from disk, make sure you have it set to Fit to layer

Now go to Layers > Merge group

Now open my black and white tile

Go to your preset shapes and choose Rectangle, make sure your width is set to 20.00

Set your foreground to Pattern and choose the black and white tile, also set the angle to 45 and scale to 50

Make sure background is set to null

Draw out a rectangle to your liking

Once done, convert that layer to a raster layer

Using your magic wand, select inside the middle of the frame

Go to Selections > Modify > Expand by 3

Now make your mask layer active and add a new layer

Floodfill with black

Add a new layer above the black layer and floodfill with white

Now go to Effects > Plugins > Xenofex 1 > Constellation

Use these settings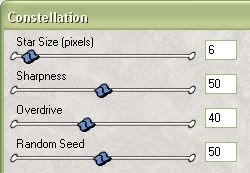 Deselect

Go to your frame layer and add a drop shadow with these settings

Vertical - -3
Horizontal - -4
Opacity - 100
Blur - 5.00
Color set to black

Add another drop shadow to the frame with these settings

Vertical - 0
Horizontal - 4
Opacity - 100
Blur - 9.00
Color set to black

Now add your various decorations and your tube how you want

Dont forget to add a gentle drop shadow to everything you add

If you need to resize the whole thing to make room for the wordart....

close off the white and mask layer and merge the rest visible, then resize how you like

Now open my word art

Make one of the layers active

Go to Selections > Select All >

Selections > Float

Selections > Defloat

Selections > Feather by 3

Deselect

Now floodfill the words with a color of choice, i chose green of course

Now go to DSB Flux - Bright Noise

Have it set to Lighter and 54

Now repeat the whole process with the other word art layer

You can always use Add Noise set to monochrome if you dont have the same filter, but it will look slightly different

Now copy and paste each of the wordart layers on your tag, positioning how you like and adding a drop shadow of choice

Now add your copyright and/or license if applicable

Now you can save as a blank, or add your name to it


That wasnt difficult now, was it? lol

Now you can take a break!

I hope you have enjoyed this tutorial


Tutorial by Vella ~ December 3rd, 2008