Breast Cancer Awareness
This tutorial was written by me (Vella) any similarities to other tutorials is just a coincedence.
This is what we will be making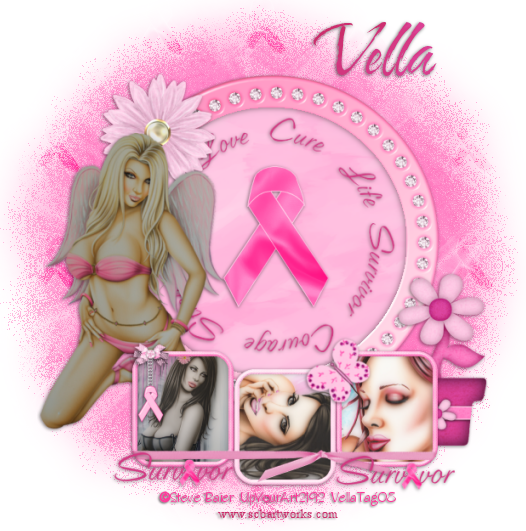 This tut was written in PSP 9. It should be able to be done in version 7 and up.
You will need PSP and i assume you have a working knowledge of the tools.
Things you will need....
Xero Porcelain plug in (somewhat optional)
Mask #119 from WeeScotsLass HERE
My PTU scrapkit called Breast Cancer Awareness
You can find the info on my blog HERE where there is a freebie add on you can use but if you buy my kit, i will donate half of all proceeds to the International Breast Cancer Research Foundation
My store info is on the left, under the Stores i sell at heading, click one of the banners
4 tubes of your choice or 1 tube and 3 images
I have used tubes from Steve Baier. He has awesome work.
If you want these awesome tubes, you can pick them up from UpYourArt
Please do not use the same tube without purchasing it and using a proper license for it
Open a new image 600x600
Floodfill with white
Add a new layer
Open BCA Paper 2 and floodfill the new layer with it, the scale set to 60
Now use the mask you downloaded from Weescotslass #119 and merge group
Open BCA Frame 8 (can also use Frame 7 or 9)
Copy and paste it into the image, centering it but not completely center, move it up a bit to leave room for the images at the bottom
Dont forget to add a drop shadow (i used the same one thru the whole tag)
Open BCA Paper 9
Take your magic wand and click inside the frame
Go to Selections > Modify > Expand and choose 8
Create a new layer and flood fill the selection with the paper, have the scale set to 50
Dont unselect yet
Go to Selections > Modify > expand and choose 2
Go to Plugins > Xero> Porcelain and use these settings
Softness - 50
Strength - 128
Brightness - 128
You can also use Effects > Cut out ...but the filter softens the paper as well as giving it the soft shadow, cut out only makes it appear really round, which i didnt want, but you can use it if you wish
Open BCA Wordart 2
Copy and paste as a new layer and resize it to fit inside the frame and use a drop shadow
Open BCA Ribbon Silk
Copy and paste into image, resizing as much as you need, make sure its in the middle of the word art, use a drop shadow
Now open either BCA Frame 1 or 2 (i used 1)
Copy and paste as a new layer, resizing as much as you want, use a drop shadow
Now using a tube or image of your choice, copy and paste below the frame layer
You will need to resize to fit, then use your eraser to get rid of the part sticking out of the frame
If you have any empty space in the frame, make sure you add some kind of background, you can always use one of the papers from the kit
Repeat this until all the parts of the frame are filled
Now hide all the layers, except the ones in the frame and Merge > Visible
Now go to Plug ins > Xero > Porcelain
I used similar settings as before, but i think i changed the Softness, you can play and see how you like it or omit this step
Now unhide the frame layer and Merge > Visible
You can now move your frame to where you want
Now you can add a tube and move it behind the frame, resizing as you need and add a drop shadow
Now its time to embellish
You can embellish the tag how you want, you can look at my tag for a guideline
Dont forget those drop shadows
Once you are done, add your copyright and license number and either save as a blank tag, or put your name on it and save
Now you're done, that wasnt so hard was it? lol
Now you can take a break!
I hope you have enjoyed this tutorial
Tutorial by Vella ~ September 23rd 2008